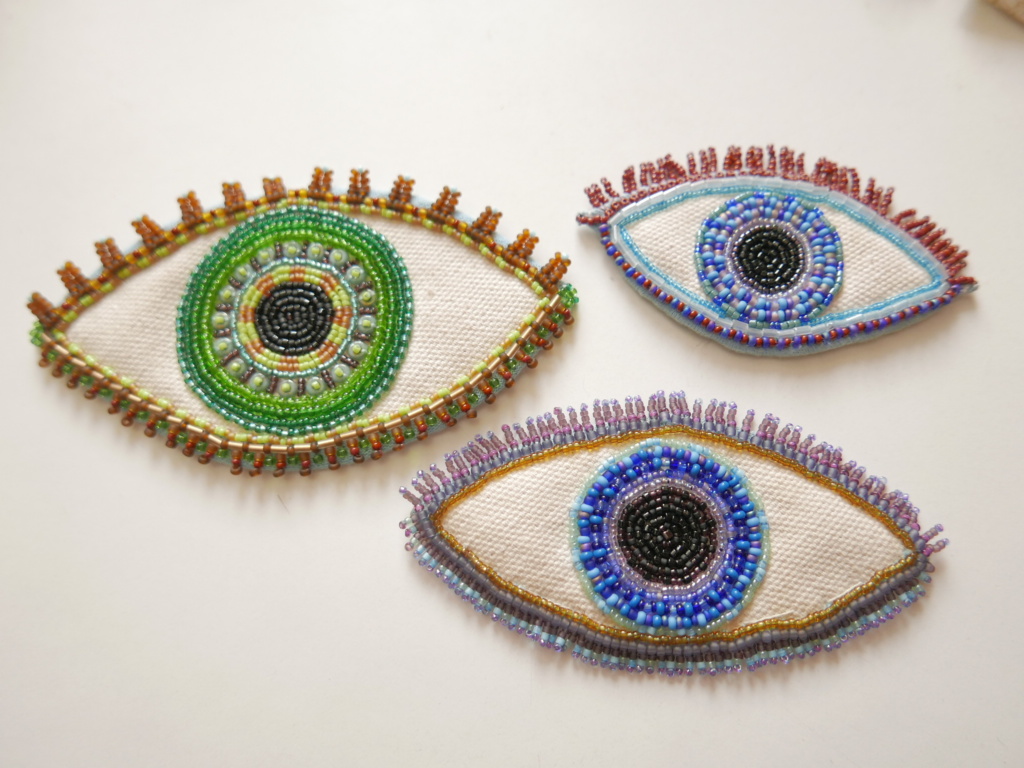 Once again an eye theme appeared in my creations. So today I will tell a little bit more about eye symbol and handmade patches that I've stitched recently.
Life long Inspiration
It was a teenage dream, a day I was 16, someting surreal nowadays. I was living the essence of youth, although I didn't know. I just saw life as a dangerous jungle and lonely island at the same time. No things were black or white. They were both black and white (plus all shades of grey) or even very colorful. Did that changed much since then?
That time I was in love – a love that was never ment to be fulfilled, brought to my heart inspiration. The vision of a cloud of eyes, eyes that were in fact mine that were seeing and absorbing the world. Today I see in that metaphor also eyes of the world that reflects me. I see collective consciousness that I belong to. I see you.
The eyes for a young girl were a sign of hope, carving the way to somebodys heart as much around as possible and yet to the heart. They left the trace, the puplis pierced my soul deeply, speaking about love and connection.
27 years later the cloud of eyes is back. It was never gone, just surfaced to the upper parts of my consciousness. So that I created the image in 2018 – as a mixed media embroidery painting using a base inspiration that rooted in my youth.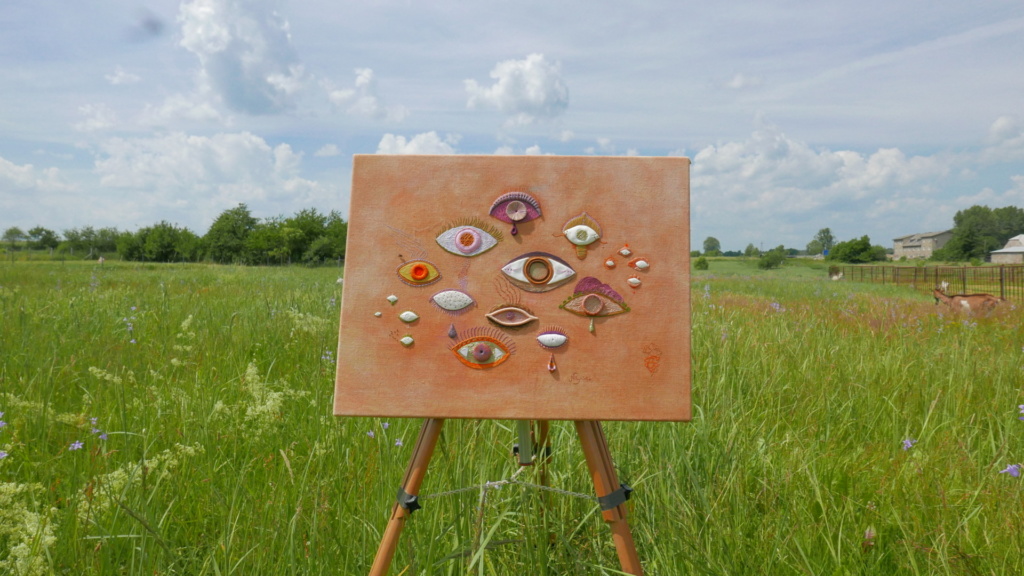 Then in March and April 2020… and May, June, July… The very intense pandemic, lockdown times I spent stitching beaded eyes and feeding my goats in the fields. It was spring, cold wind, raw sun, first green grass. The great dibelief filled my pupils. The filling that seems to remain up to now. The stitching process was healing me. The cold air grounded my soul. The eye-patches were made of fine glass beads and stitched onto recycled leather. See below.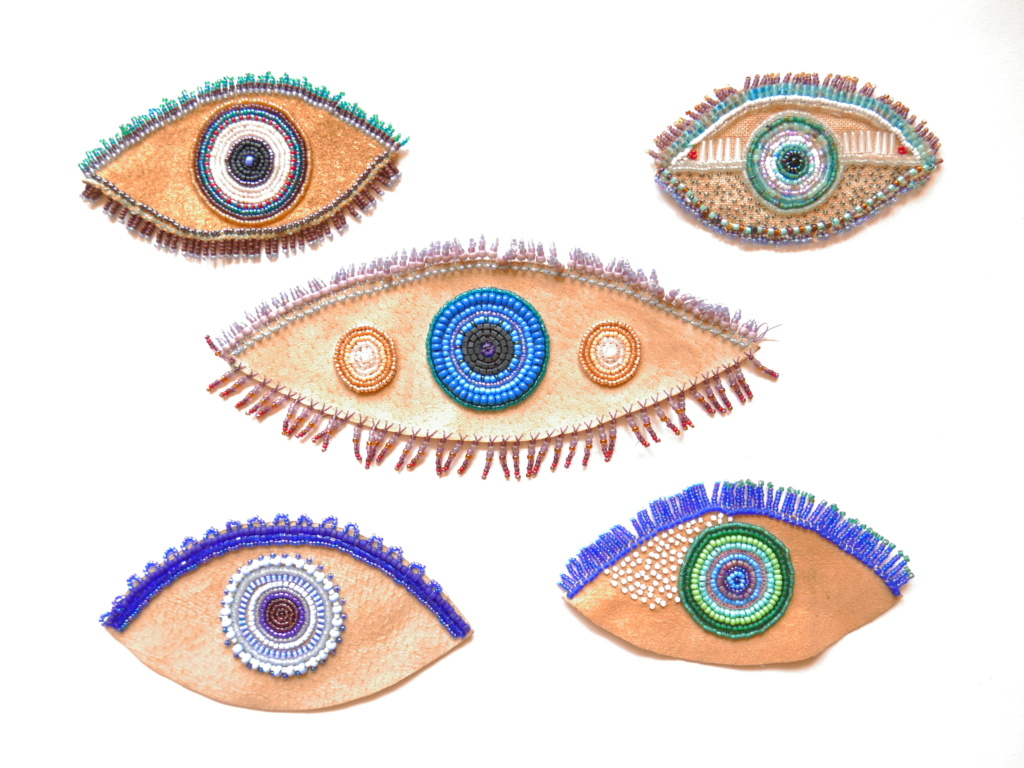 Some time in between I've started working on a giant beaded blue eye pillow. It has landed in the drawer eventualy. To be completed later perhaps. Pictures below.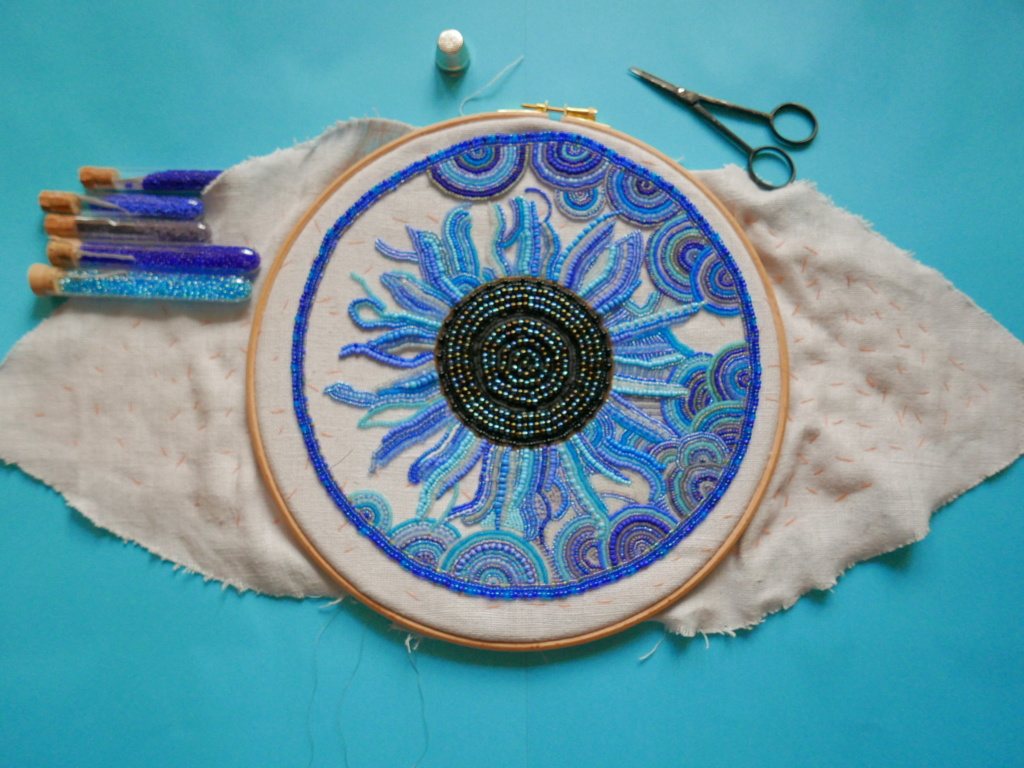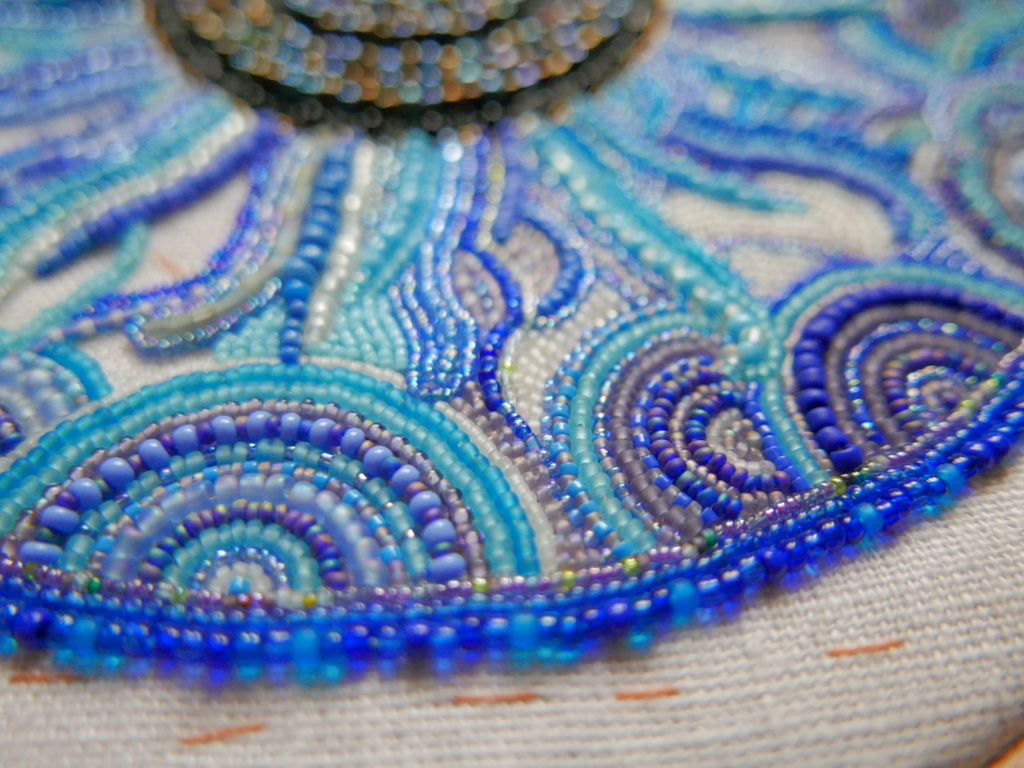 New wave of eyes, February 2021
In January and February 2021 I created a limited edition of handmade patches evolving arount the eye theme. I used recycled cotton and linen as a base, stitched fine glass beads on it. I used thread for beading, to make sure the design will be strong and durable. These handmade patches are dedicated to be used on clothes or as a jewellery pieces. New designs are on the way. For now you can buy them in my online store or below.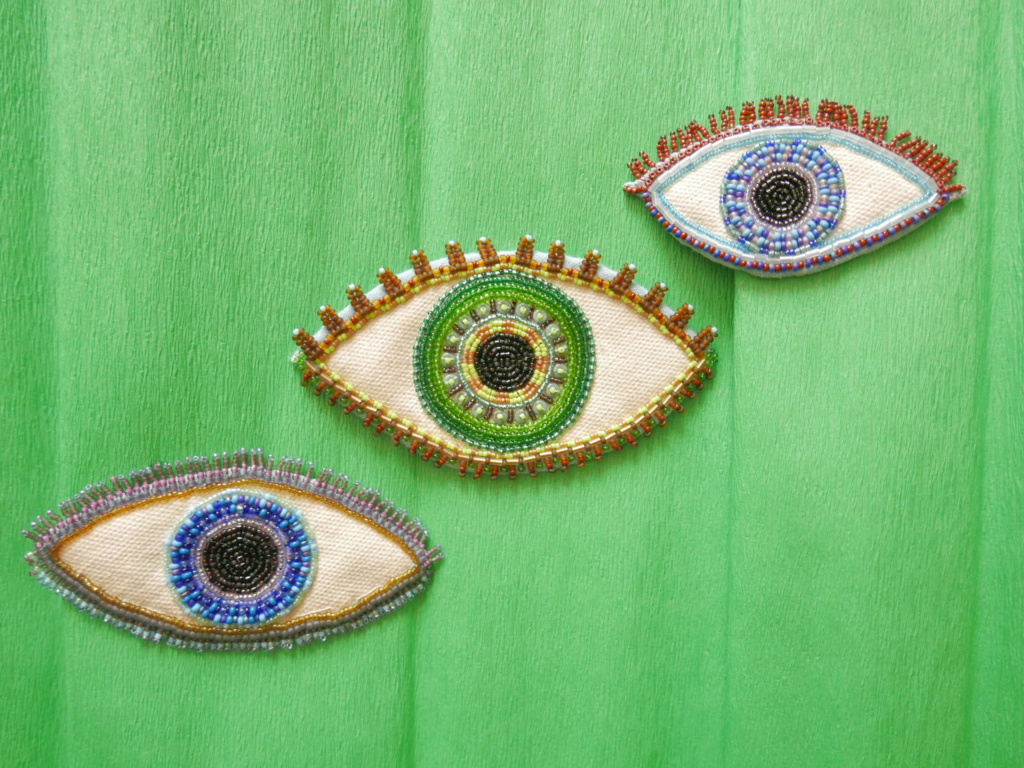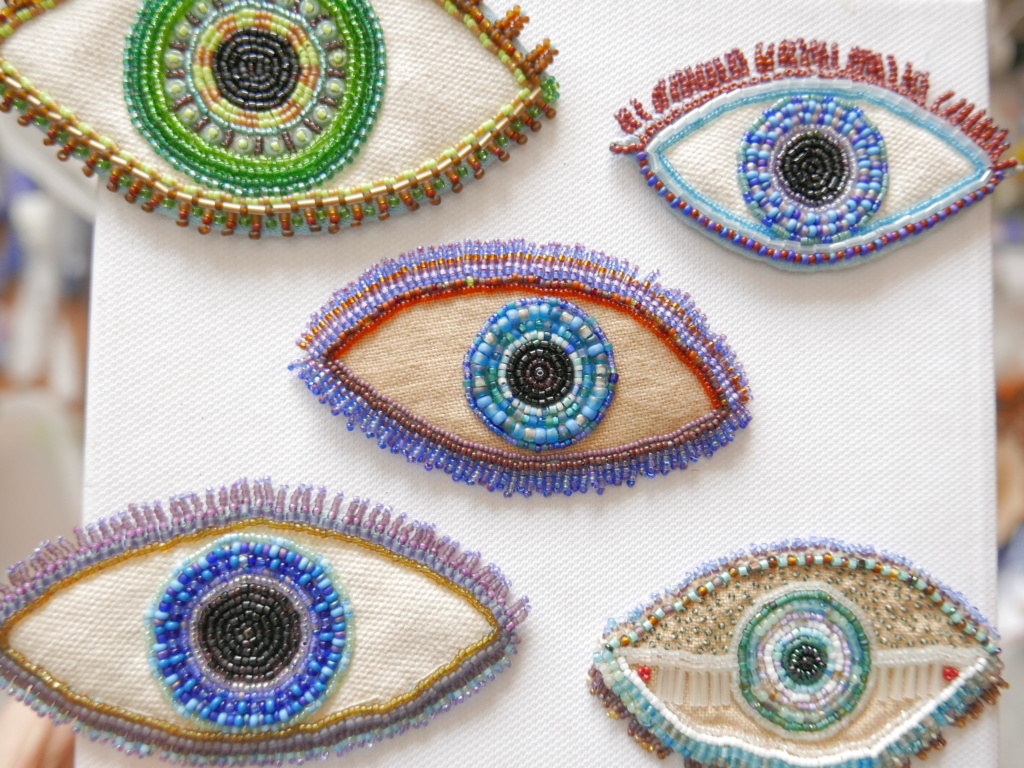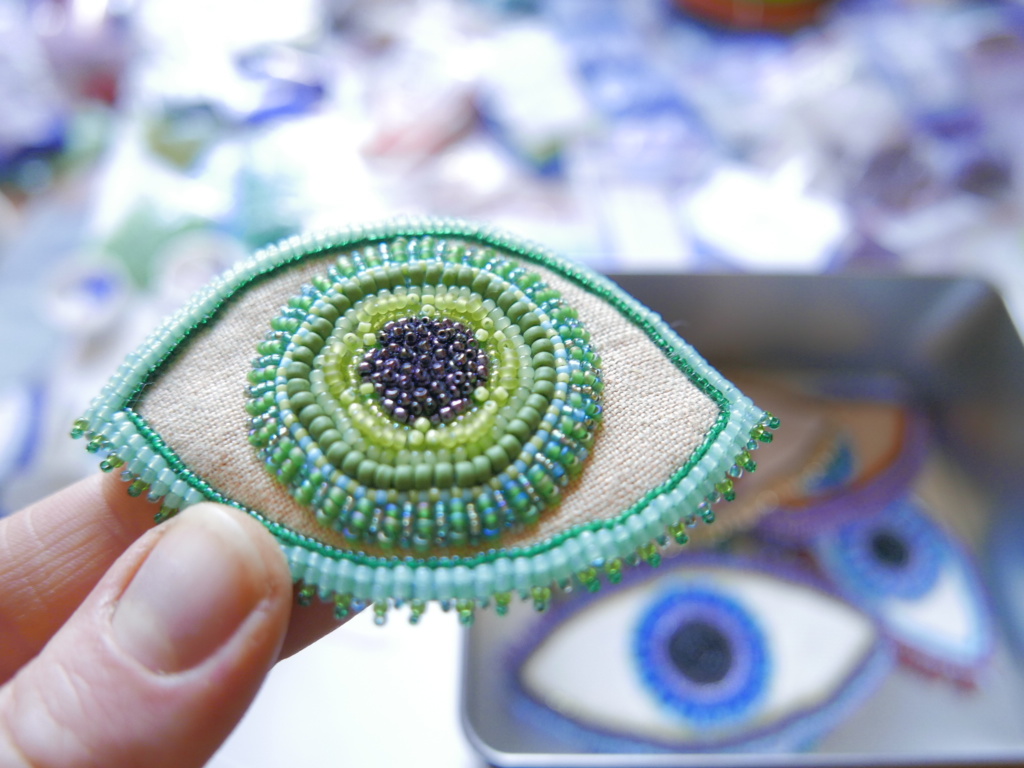 Just a tiny FAQ section just in case you have some questions…
How are handmade patches made?
The patches are made of recycled cotton and linen which means I cut old t-shirt into eye shape (three layers) and one layer of linen (sometimes it is store bought linen fabric). I sew it all toghether so the patch is thick and strong and doesn't loose shape during beading.
I hand stitch beads onto the patch. The patch is ready to be sew on by you. You can sew the patch on you jeans, jacket, bag or other clothes.
Where can I buy Nibyniebo's handmade patches?
You can buy them in my online store on nibyniebo.com. This is the only way you can buy original Nibyniebo patches directly from the maker (me).
Who makes the eye patches?
Justyna Wołodkiewicz is the designer and maker who hand makes every patch. She is a textile designer and passionate embroiderer. She loves eyes. You can read more on ABOUT page.
How to attach the patch to my clothes?
You will need a needle and a thread. Make sure the thread is neutral color so the stitches will not be visible on the patch. Sew the patch on your jacket/jeans/bag or other clothes. Recommended type of stitch is running stitch. The patch has finely sewed edges.
How to care about handmade beaded patch?
You can do the laundry in low temperatures. Please below 50 C degrees. Or you can brush it with wet brush and soft soap by hand.
Are the eye patches different?
Every hadnmade patch is one of a kind. They are carefully hand beaded by one person (me!). Every design is unique. Thus the price vary due to the size/complication/materials used.
What are the materials used for patches?
Recycled cotton clothes, linen, glass beads (czech glass beads, TOHO beads, Myiuki beads, Nihbeads) professional beading threads.
How does a back of the patch look like?