900,00 $
This is hand embroidered mixed media artwork titled 'The Cloud Of Eyes'
Created with love by

Justyna Wołodkiewicz

– textile artist who often uses symbols and hidden meanings in her art.
Measurements of the artwork: 60×40 cm
Shipping method: Shipped with Global Express, worldwide, deliery within two weeks.
1 in stock
Description
Presented here is the original artwork created in mixed-media techniques of textile art.
That hand embroidery may be considered as huge in compairson to the collection of hoops that I created in the past. The size makes the piece stand out and amplify the idea that hides in the artwork itself.
What inspired my hand embroidered artwork?
I'm not only art lover but passionate spiritual seeker as well. In my long life practice I find the eye as a symbol of soul and internal wisdom. It is also a medium of communication with the world – the spiritual universe. The eyes from my hand embroiderd painting may represent differen dimentions and forms that sould can take. The eyes in a cloud may be one spirit in its different stages in life. They may represent other people souls communicating with the viewer. They can show how life situation changes us and shapes into alway something newer. Beyond all I belive that humans are part of a greated collectie consciousness. A huge composition of smaller consciousnesses.
What is the creative process of my art?
Usually I come up with some idea but often the thought 'chases' me. If I have positive feelings about my concept I start with a few sketches. However often my work is an improvisation. The composition of the eyes' cloud has long been in my head. It was a matter of freestyle sculpting of every eye and arranging them, matching the embroidery stitches. When the canvas was painted with acrylic paints the longest part came. It took me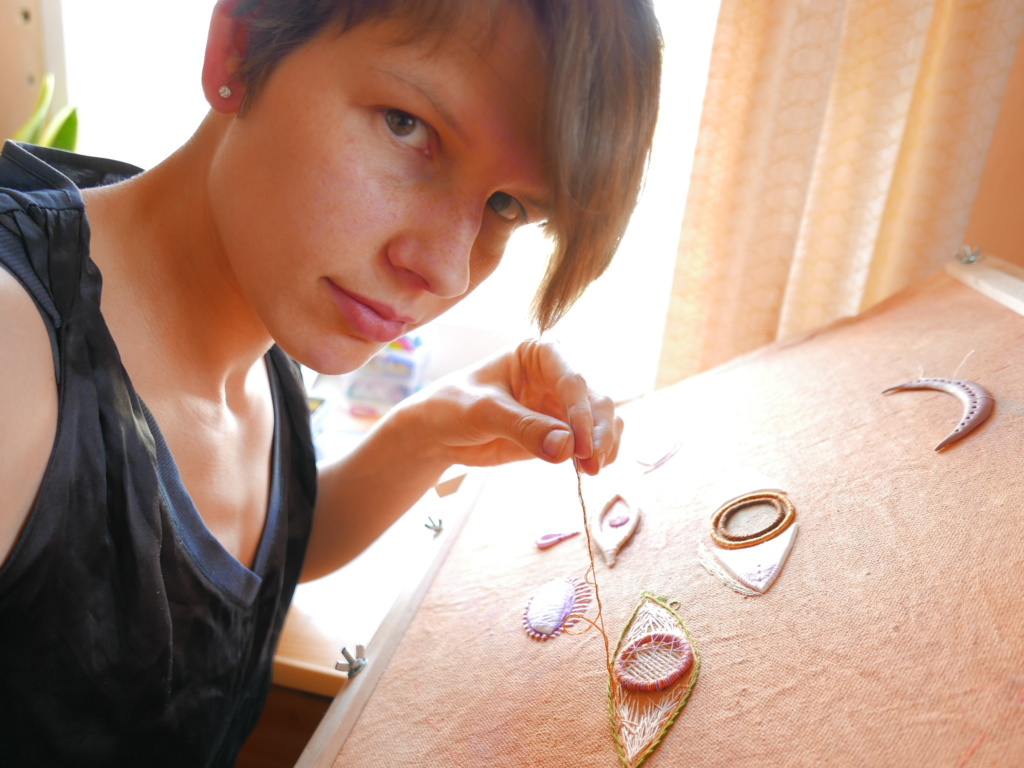 months to complete the project. Some of the embroidery techniques used in the process were very time consuming. Some other stitches – although seem straight – not so much faster at all.
All the technical details about my artwork:
The base frame: made of wood.
The size of the original artwork is:
The fabric is linen painted with acrylic paints.
The sculptures: made of professional polymer clay hardened in the oven.
The threads:  cotton DMC.
The artwork comes unframed.
Shpipped with Global Express worldwide.